In November every year our Winemakers Come to You!

---
Your winemakers, Unique Wine Safaris, Weald Wine Cellars and Great Wines Direct invite you to this Fantastic Saturday evening event, every November in Kent.
Join us for this unique opportunity in tasting dozens of superb quality wines from our latest portfolio, direct from our travels around the worlds vineyards.
Meet our very own winemakers in person and ask them about their wines, vineyards, family history, quality etc.
Discover what makes our wines so good (yes, your winemaker will speak English!) and what differentiates them from others locally, or internationally.
This unique opportunity is just one step away from actually visiting the wine estates in person. (Which you will also have a chance to discover how to do personally, at the event!)
---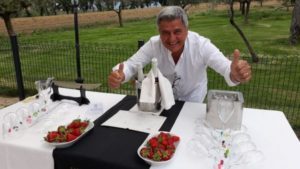 Meet Your Winemakers
Join us and Meet Your Winemakers for this unique opportunity in tasting dozens of superb quality wines from our latest portfolio, direct from our travels around the worlds vineyards.
– Unlimited Wine Tastings
– Sumptuous 2 Course Meal
– Meet the Winemakers Personally
– Great Venue
– Lively Atmosphere
– Great Fun!

The Venue
The Venue is the Swallows Oast, Ticehurst, Kent.
The event is from 7pm until about 10.30
Taxis will be available to ferry you to the many local hotels and BnB's in the area, early booking is recommended.

---
The Swallows Oast is a stunning converted Oast house and barn in the middle of the beautiful Kent countryside; the Garden of England
It is a very popular venue for weddings and a great place to taste great wines in a relaxed and pleasant atmosphere.
---

Tickets
Tickets are strictly 'First Come, First served' basis and are just £47 per person, which includes a fabulous 2 course meal (cooked fresh by the in-house chefs) all wines tasted, wines with the meal and quizzing of the winemakers!
---
The tables all have 10 seats, so you can either meet new people, sit with your friends or arrange for a group to be together. Usually a winemaker will sit with you on the table to answer any questions you may have over matching the food with their wines.

If you like real wine, are interested in where it comes from and would like to learn more about its origins, then this is a spectacular event you will not want to miss, so get in touch via the details below, or order securely online using the checkout cart
CALL – 01293 734664 or 01580 753487
email – info@uniquewinesafaris.com
---

Previous Events
Previous events information and wineries can be viewed here to get a feel of what to expect.
The atmosphere is warm and friendly, the winemakers are passionate and eager to meet their wine buyers and the evening is always a huge success.

---

Ordering the Wines
All wines tasted will be available to order on the night, at specially discounted event prices, with delivery to your home in time for the Christmas and New Year holidays
As always, our wines are of the highest quality, many are Organic, originate from the vineyards in question, also Vegan and Vegetarian. Ask the winemaker and he will be happy to let you know all the relevant details.

---
We look forward to welcoming you on the day with our winemakers
Please get in touch if you have any questions about this event
---
Spaces are very limited so be sure to get in touch now and reserve a place for you and your friends
We reserve the right to refuse admission and this event is open to persons over 18 years of age only.